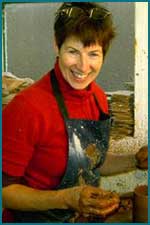 The Potter
Jill Christie's work continues the best traditions of the studio pottery movement. She produces earthenware of a lightness and clarity never equalled by stone ware, with colours and techniques offering a treat unique in ceramics today.
Alongside the comprehensive domestic range, Jill also produces a variety of one-off pieces, including large decorated vases and bowls, as well as cut out candle-holders and table lamps. Another speciality is impressed pottery using real leaves, a particularly effective technique with red earthenware clay.
Wold Origins
Wold Pottery was started (near Beverley) by the late Aidan Dixon in 1954. Jill Christie was apprenticed to him in 1973, learning the fine throwing and decorating methods which are the signature of Wold Pottery. He retired in 1985 and Jill took over the Wold name. Since that time, she has continued to maintain the familiar range but expanded the colours and shapes for a new contemporary audience and to meet the needs of commissioning customers.
In 2004, she moved the business into a nineteenth century former butcherís shop in Loftus market place to realize her dream of having both workshop and gallery under one roof. As well as selling her own works, she offers a delightful collection of original works by other craftsmen and women in a variety of media. In addition, Jillís own unique ceramics can be found in galleries and outlets through England.